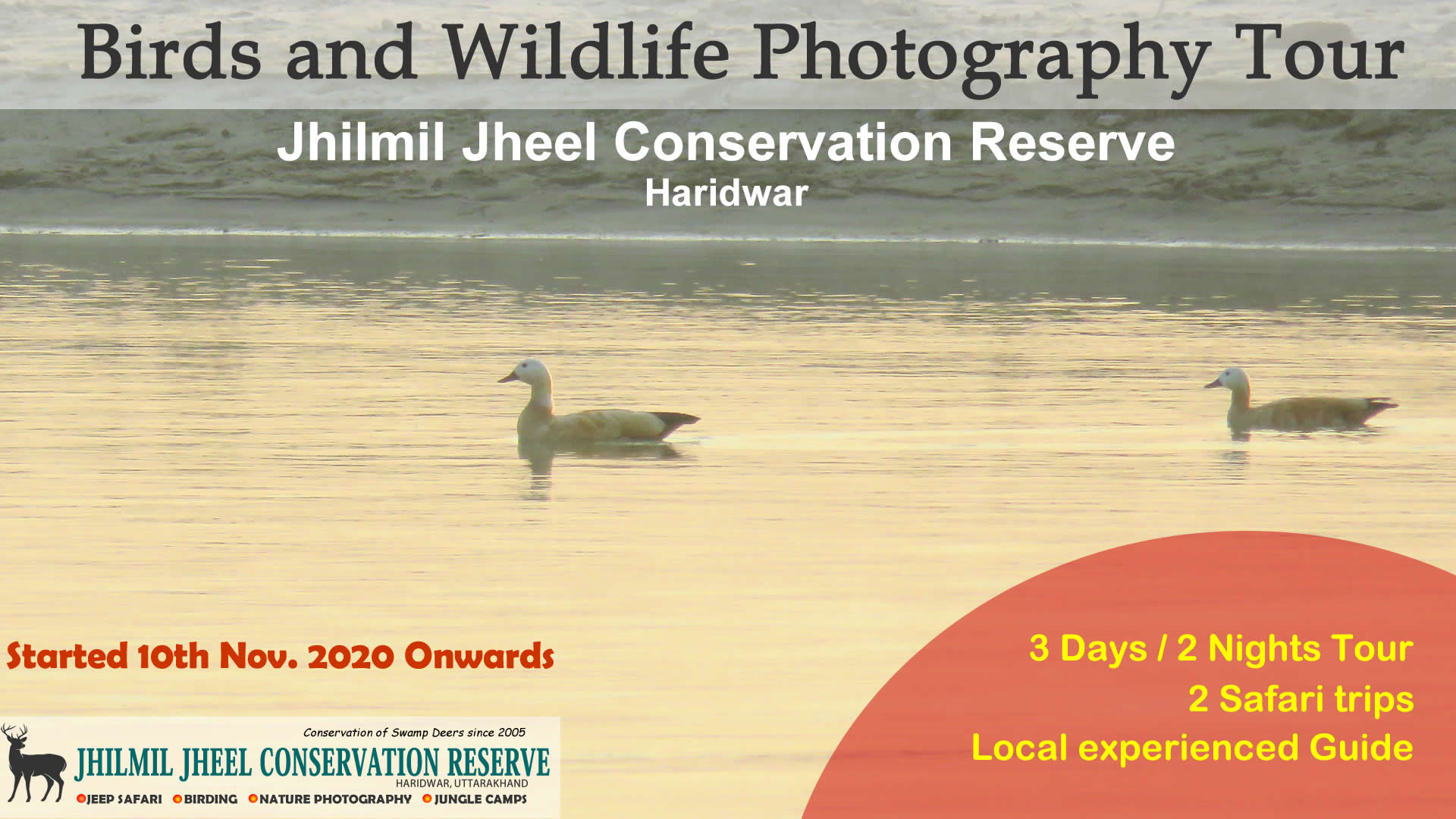 Every year, Haridwar plays host not only to lakhs of pilgrims and tourists, from across the country and a abroad, who come here on their religious sojourn, but also to a large number of the winged guests, from the high altitudes in the Himalayas and also from across the Himalays, which descend on the wetlands of the region during winter. Migrated-birds just as the benevolent nature has endowed Uttarakhand with a rich wealth of luxuriant forests, magnificent mountains and gurgling rivers, she has also blessed it with a number of excellent wetlands, including Jhilmil Jheel Conservation Reserve, Haridwar; which are a haven for migratory fowls for their wintering.  Including ruddy shelduck, northern pintall, mallard, gadwall, red crested pochard, black headed gull and Eurasian curlew etc.
With the onset of winter, when it is too cold in north Europe and Asia and with no germination in from their native, these aquatic fowls migrate from their native habitats, including Palaearctic region in Europe and Asia and descend on the wetlands of the warm regions on the wetlands of the warm regions for shelter and nutrition.
November- February every year you can say there is the festival of birds in all that wetland areas. 
View complete Check list
Days: 3 Days/2 Nights
Tour Dates: 10th Nov. 2020 Onwards
Focus on: Birds and Wildlife
Total Space: 6 persons
Available: 6 persons
Pace: On Foot as well as Gypsy (Jeep) in core area
3 Days /2 Nights
Night Stay (Shared) at Luxury Jungle Camp in FRH Campus
2 Jungle Safari at Jhilmil Jheel Reserve
2 Bird walk
Experienced Eco Tourism certified Nature Guide
All meals (Lunch, breakfast, dinner, morning, evening tea with snacks)
Day 1 
12:00 noon- Arrived at Jhilmil Jheel CR Haridwar (30 minutes drive from Haridwar Railway Station), check in, Welcome drink
1:30 pm – Lunch
3:00 pm – Evening Bird walk near FRH Campus
5:30 pm – Tea/Coffee
8:00 pm – Dinner and overnight stay at Jungle Camp
Day 2 :
6:30 am – Bed tea
7:00 am – First Safari at Jhilmil Jheel CR with Packed breakfast
10:00 am- back to Jungle Camp 
1:30 pm- Lunch
3:00 pm – Second Jungle Safari
6:00 pm – back to Stay
6:30 pm – Tea/Coffee
8:00 pm- Dinner and overnight stay.
Day 3 
6:30 am – Bed tea
7:00 am – Bird Walk on Trail
9:30 am – Back to Camp
9:45 am – Breakfast
10:30 am- Checkout
Tour Terminated
Note:
Pre-Booking required as limited number of space available, i.e. 5 persons
Comfortable Jungle Camps will be provided having beds and cot, attach wash room, electricity at FRH Campus area. All booking is subjected Forest Authority permissions.
Normal Indian food like dal, seasonal sabji, roti, chawal, salad, paneer, pickles, tea, coffee etc will be given as per itinerary. 
Mobile Network: BSNL with weak signal inside the FRH premises, Jio signals will be available during safari or other parts around you. 
Your ID (Voter ID/Aadhar card / Passport) is mandatory to carry and will be present at the time of check in.
Bring your regular or emergency medicine with you, as Haridwar city is about 20 km and will take 30-40 minutes to reach in case any emergency.
Bring torch, some time electricity goes off.
How ever there is electric fencing and forest staff is very near to you, yet the whole area is absolute jungle and wild life presence near to you, and this tour does not support any kids to be include in this tour.
After dinner kindly be inside in your camp.
While entering you camp, always check corners, beds etc, some insect like spider may disturb you. So be patience and inform your attendant.  
If you are looking for excessive comfort or more demanding, comparison with others on minor things, this tour is not for you. Kindly excuse us. 
This tour is for all nature lovers love to experience wonderful wildlife experience. 
Timing is very important, we are committed for your best wildlife experience with us.