JHILMIL GRASSLAND BIRD WATCHING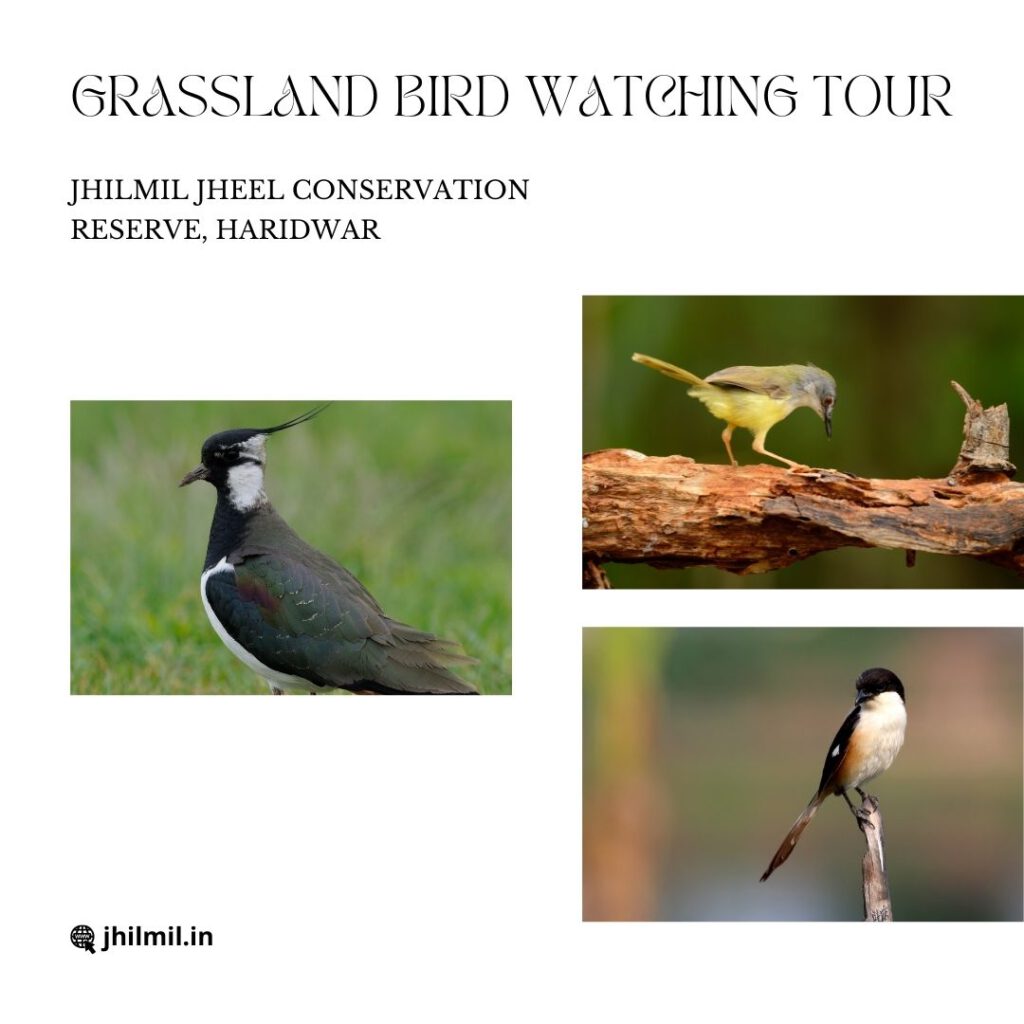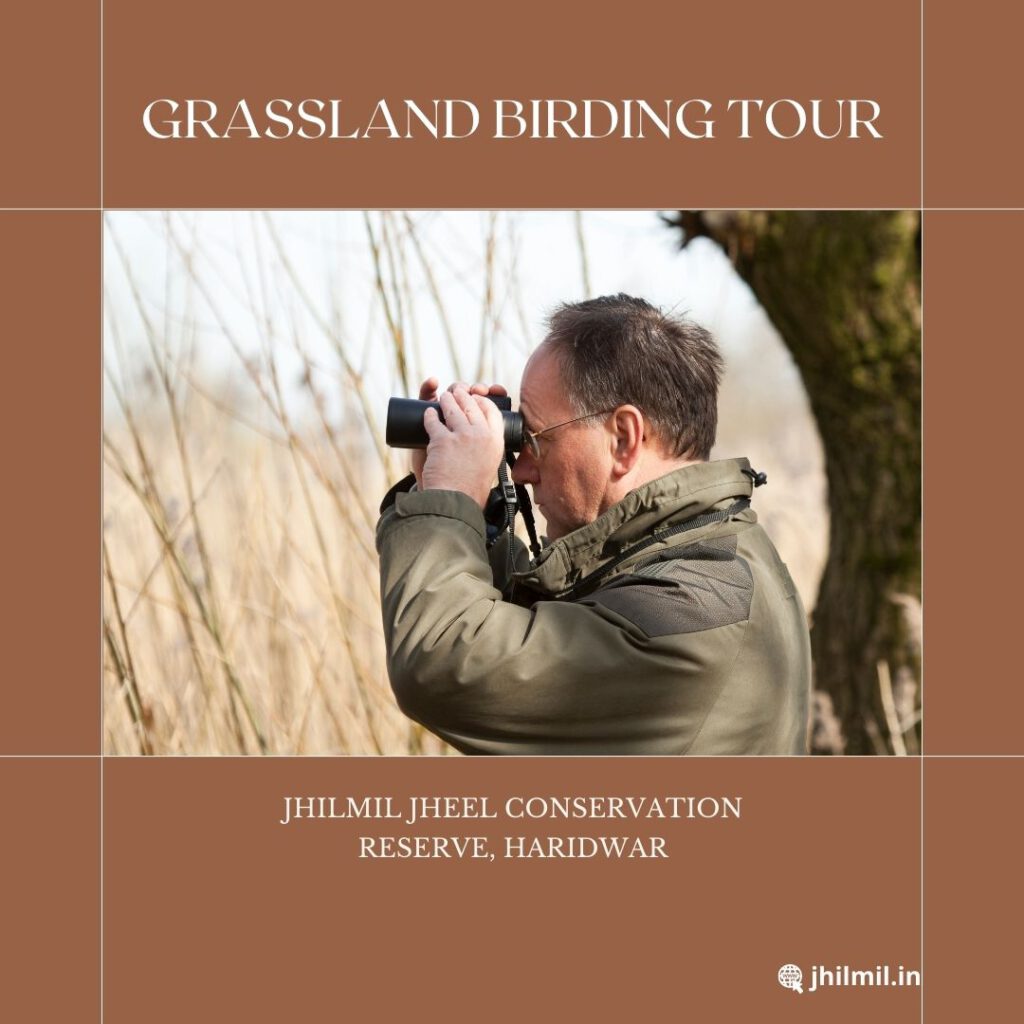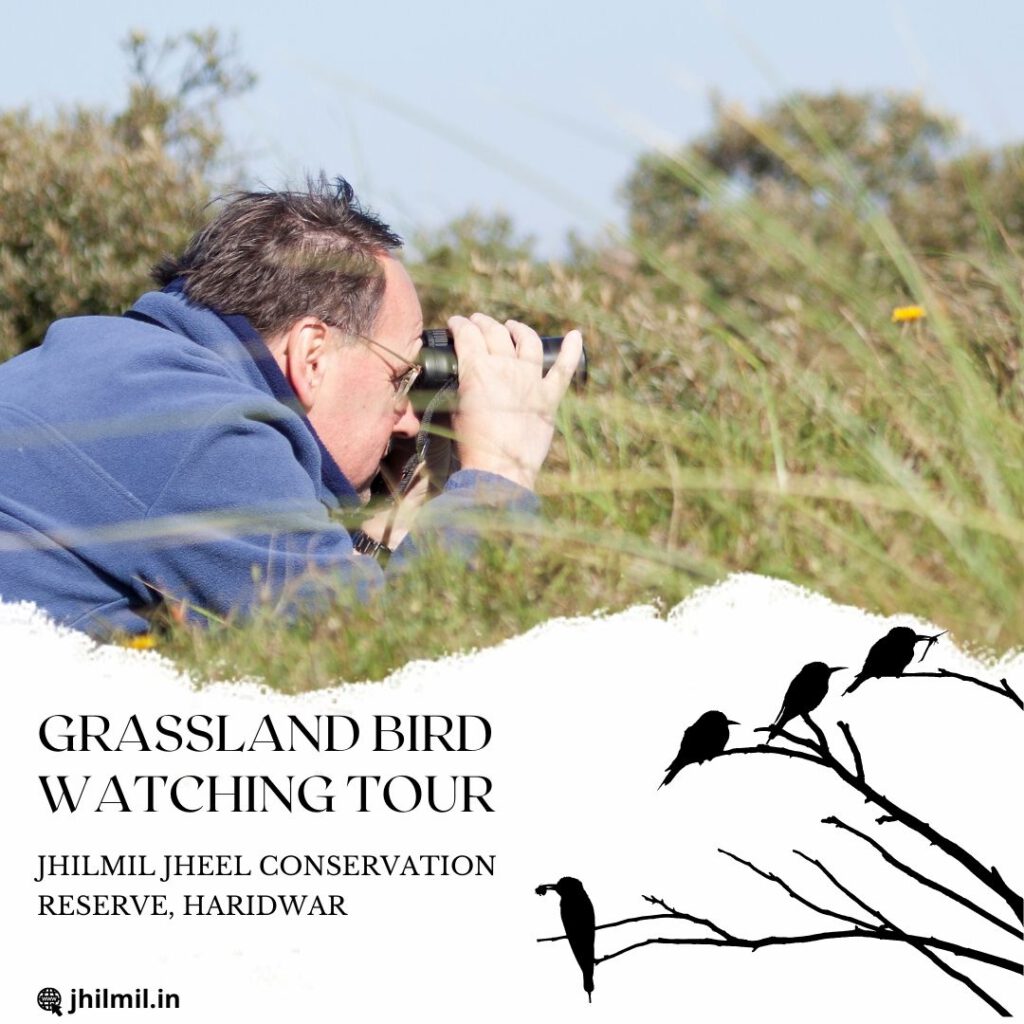 April-June and October to December favorite times to visit Jhilmil Jheel Conservation Reserve, Haridwar Grassland for bird photography, one of reasons for this it's where you can surely find chats, tits, flycatchers and many more birds. So if you are interested in visiting place and wanting to get some worthful bird photographs, join grassland bird watching tour here.
Why Grassland bird watching Tour.
If you are looking for small birds to photograph

Variety of bush chats sharing same grassland

So it is best time to see the birds.
Duration: 3 Days/2 Night
Night Stay Home Stay near Jhilmil / Luxury Jungle Camp / Tourist Hut in FRH Campus of Jhilmil
Focus on

: Birds

Total Space: 4-6 persons (at a time)
Pace: On Foot as well as Gypsy (Jeep) in core area
2 Jungle Safari
Experienced Nature Guide
Check in 12:00 noon, Check out 11:00 am
Itinerary
Day 1 
12:00 noon- Arrived at Jhilmil Jheel CR Haridwar (30 minutes drive from Haridwar Railway Station), check in, Welcome drink
1:30 pm – Lunch
2:30 pm-5:30 pm – Bird Watching around Jhilmil FRH Campus
6:00 pm – Tea/Coffee
8:00 pm – Dinner and overnight stay at Jungle Camp/ Tourist Hut
Day 2 :
6:30 am – Bed tea
7:00 am-11:00 am : Bird Watching, use of Gypsy on Core Area with Packed breakfast
1:30 pm- Lunch
3:00 pm – Second Bird watching user of Gypsy on Core Area and River side birding
6:00 pm – back to Stay
6:30 pm – Tea/Coffee
8:00 pm- Dinner and overnight stay.
Day 3 :
6:30 am – Bed tea
7:00 am-9 am – Morning Birding on Jungle trail
9:30 Breakfast
11:00 Checkout
11:00 am- Checkout 
Tour Terminated
BIRDS OF JHILMIL JHEEL C R
Note:
Pre-Booking required as limited number of space available, i.e. 4-6 persons
Comfortable Home Stay/ Jungle Camps will be provided having beds and cot, attach wash room, electricity at FRH Campus area. All booking is subjected Forest Authority permissions and availablity.
Normal Indian food like dal, seasonal sabji, roti, chawal, salad, paneer, pickles, tea, coffee etc will be given as per itinerary. 
Mobile Network: BSNL with weak signal inside the FRH premises, Jio signals will be available during safari or other parts around you. 
Your ID (Voter ID/Aadhar card / Passport) is mandatory to carry and will be present at the time of check in.
Bring your regular or emergency medicine with you, as Haridwar city is about 20 km and will take 30-40 minutes to reach in case any emergency.
Bring torch, some time electricity goes off.
How ever there is electric fencing and forest staff is very near to you, yet the whole area is absolute jungle and wild life presence near to you, and this tour does not support any kids to be include in this tour.
After dinner kindly be inside in your stay.
While entering your stay, always check corners, beds etc, some insect like spider may disturb you. So be patience and inform your attendant.  
If you are looking for excessive comfort or more demanding, comparison with others on minor things, this tour is not for you. Kindly excuse us. 
This tour is for all nature lovers love to experience wonderful wildlife experience. 
Wildlife/Birds is matter of chance, patience and positive approach required for better results.
Timing is very important, we are committed for your best wildlife experience with us.