WILDLIFE ELEPHANT PHOTOGRAPHY TOUR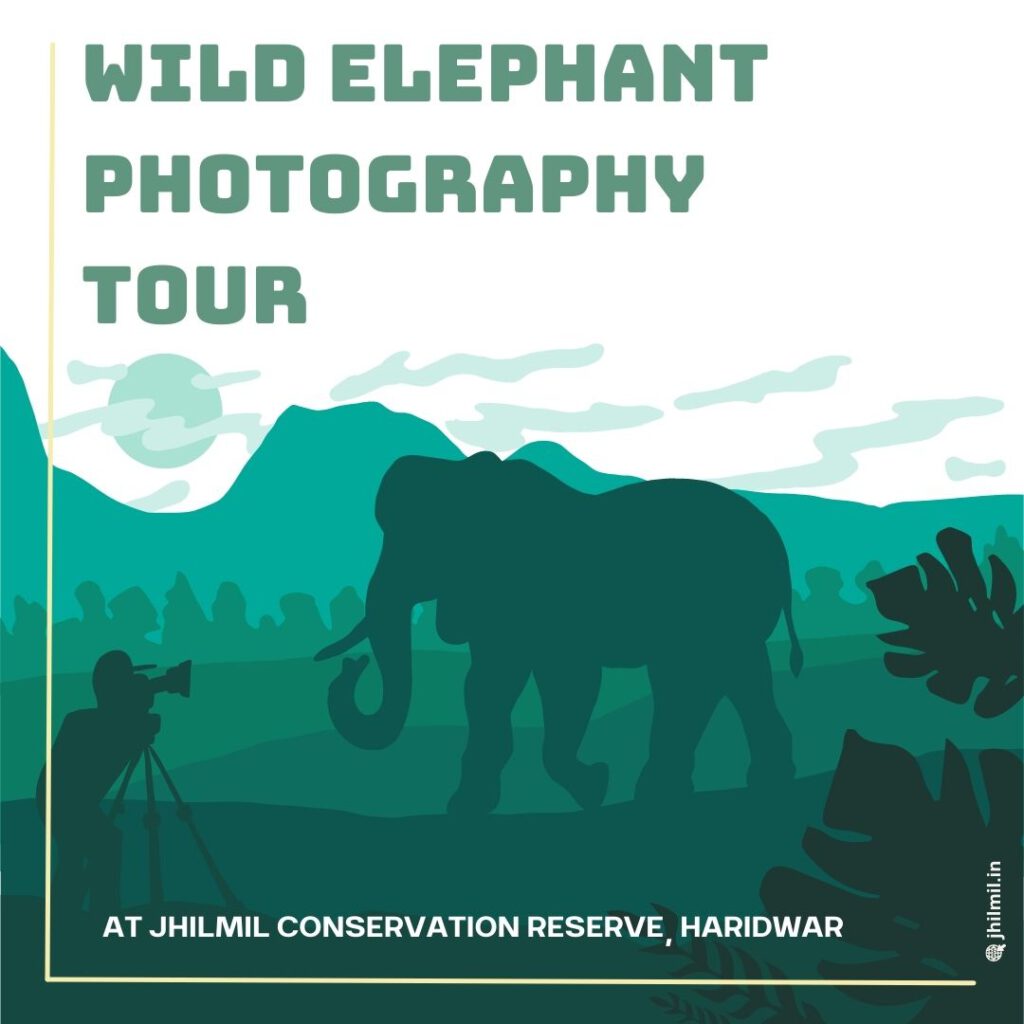 Calling all wildlife and nature photographers! Get ready for an unforgettable adventure at the Jhilmil Jheel Conservation Reserve. Picture this: majestic wild elephants roaming freely in their natural habitat, against the backdrop of pristine landscapes. Your lens has the power to capture moments of raw beauty and the untamed spirit of these incredible creatures. This safari tour is your chance to share their story with the world, to inspire awe and appreciation for the wonders of nature. So, pack your gear, embrace the thrill of the wild, and let your passion for photography be the bridge that connects people to the mesmerizing world of wild elephants at Jhilmil Jheel. Your lens awaits this extraordinary journey!
Duration: 3 Days/2 Night
Night Stay Home Stay near Jhilmil / Luxury Jungle Camp / Tourist Hut in FRH Campus of Jhilmil
Focus on

: Birds

Total Space: 4-6 persons (at a time)
Pace: On Foot as well as Gypsy (Jeep) in core area
3 Jungle Safari
Experienced Nature Guide
Check in 12:00 noon, Check out 11:00 am
Itinerary
Day 1 
12:00 noon- Arrived at Jhilmil Jheel CR Haridwar (30 minutes drive from Haridwar Railway Station), check in, Welcome drink
1:30 pm – Lunch
2:30 pm-5:30 pm – First Elephant Photography Safari
6:00 pm – Tea/Coffee
8:00 pm – Dinner and overnight stay at Jungle Camp/ Tourist Hut
Day 2 :
6:30 am – Bed tea
6:00 am-10:00 am : Second Elephant Photography Safari with Packed breakfast
1:30 pm- Lunch
3:00 pm – Third Elephant Photography Safari
6:00 pm – back to Stay
6:30 pm – Tea/Coffee
8:00 pm- Dinner and overnight stay.
Day 3 :
6:30 am – Bed tea
7:00 am-9 am – Morning Nature walk
9:30 Breakfast
11:00 Checkout
11:00 am- Checkout 
Tour Terminated
ELEPHANTS OF JHILMIL JHEEL GALLERY
Note:
Pre-Booking required as limited number of space available, i.e. 4-6 persons
Comfortable Home Stay/ Jungle Camps will be provided having beds and cot, attach wash room, electricity at FRH Campus area. All booking is subjected Forest Authority permissions and availablity.
Normal Indian food like dal, seasonal sabji, roti, chawal, salad, paneer, pickles, tea, coffee etc will be given as per itinerary. 
Mobile Network: BSNL with weak signal inside the FRH premises, Jio signals will be available during safari or other parts around you. 
Your ID (Voter ID/Aadhar card / Passport) is mandatory to carry and will be present at the time of check in.
Bring your regular or emergency medicine with you, as Haridwar city is about 20 km and will take 30-40 minutes to reach in case any emergency.
Bring torch, some time electricity goes off.
How ever there is electric fencing and forest staff is very near to you, yet the whole area is absolute jungle and wild life presence near to you, and this tour does not support any kids to be include in this tour.
After dinner kindly be inside in your stay.
While entering your stay, always check corners, beds etc, some insect like spider may disturb you. So be patience and inform your attendant.  
If you are looking for excessive comfort or more demanding, comparison with others on minor things, this tour is not for you. Kindly excuse us. 
This tour is for all nature lovers love to experience wonderful wildlife experience. 
Wildlife/Birds is matter of chance, patience and positive approach required for better results.
Timing is very important, we are committed for your best wildlife experience with us.