Exclusive Swamp Deer Habitat of Uttarakhand
A marshy grassland and jungle just near the Rajaji National Park, under Haridwar Forest Division. This is a unique 3783.5 hectare (9349.23 acre) site. It is corridor for most of animals transferring from National Park. Jhilmil Jheel wetland is literally the last piece of primordial Terai marshland to survive untouched in Uttarakhand. A panoramic view from the well-situated watchtower can take one back a millennium and more; little would have changed. At this low-lying site (altitude: 240 m. or 800 ft.) lives Uttarakhand's only surviving herd of Swamp Deer of Barasingha (Cervus Duvaucelii).
ANIMALS FOUND IN JHILMIL JHEEL C R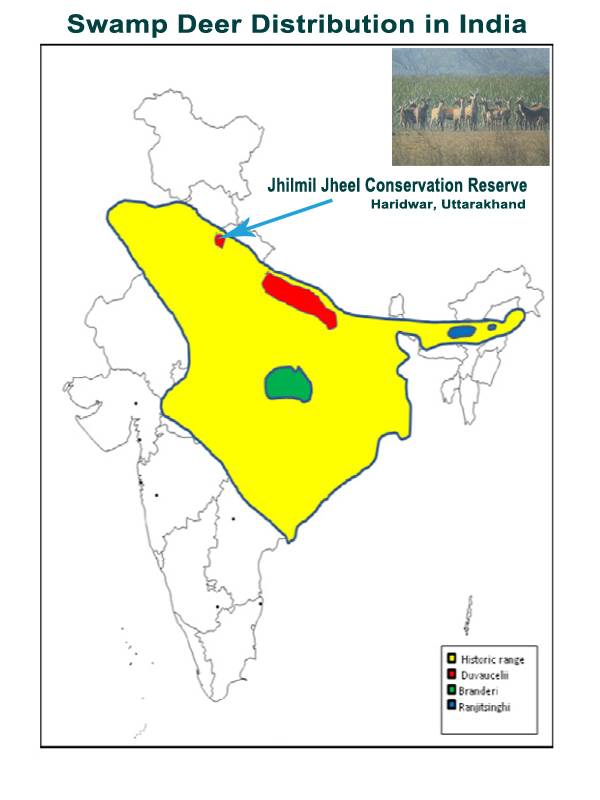 Uttarakhand's Only Swamp Deer Habitat
A very sigh deer. It has thick brown coat, which becomes darker in color as the mating season approaches. In monsoon season the females start showing white spots as in Spotted deer but they are not very prominent. Feeding happens throughout the day which peaks during 5 to 11 hrs and 15 to 20 hrs. Habitat use is largely influenced by food quality. The breeding season of the swamp deer is during the winter months of November and December when males long rutting calls can be heard. They have a long gestation period of 6 months.
BIRDS OF JHILMIL JHEEL C R
Tourism Activities at Jhilmil Jheel
If you want to spend some time in peace with nature, birds, animals, bank of river just want to leave your crowded city place, Jhilmil Jheel CR is perfect place for you. The feel is more important here and believe me, all the times there are continuous something happen in this habitat. You can go to Wetland area and sit on Watch tower, or just do Jungle Safari slowly-slowly. There are 3 watch towers around the Wetland area from there you can experience activities. The bird chirping, continuous call of Pied Hornbill, Treepie and many more birds songs you can listen. Mean time you may experience the movement of lovely deers, that may wish your attentions. Some time they also cautious to listen the presence of leopard.  There is lot for every nature lover, besides you must have time to experience this habitat. For better experience one night stay package is suitable for guests.
Broadly Classified Tourism Activities are:
Jungle Safari
Bird Watching
Butterfly Walk (Inside safe zone or near Tantwala village)
Enjoy jungle movie at Interpretation Center (For Children, Students, Families)
Just to stay at Forest Premises and leisure yourself with nature. 
Note: Area is wildlife prone. Relevant permission/Booking required for all above activities. Guide or experienced driver is necessary for above tour.